Ryeland Breed characteristics
The Ryeland sheep is a very old breed, native to Herefordshire and is classed as a minority breed on the Rare Breeds Survival Trust List.
The Ryeland is Polled breed(no horns) producing fine wool and a compact sheep that is easy to manage. the rams and ewes have lovely docile natures, the ewes are superb mothers producing strong lively lambs.
The sheep are hardy and have good feet.
The wool is soft and crimpy with a staple length of 8 to 10 cms and is ideal for handspining and knitting as well as many other craft ideas such as rug making.
The colour is usually white but coloured lambs sometimes appear as a result of the expression of recessive coloured genes
The coloured fleece can vary in colour from the palest silver through many shades of grey to black with fawn and brown also occuring.
This site is devoted to the Coloured Ryeland Sheep
For more information on the breed please visit The Ryeland Flock Book Society website which can be found on the 'Links'page
To find out about the Coloured Ryeland Committee

click here
| | |
| --- | --- |
| SHADOWLAND HOLLY and HETTY | EWE AND LAMBS |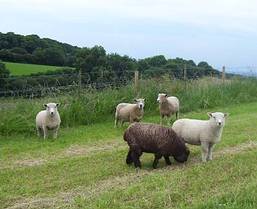 WHITE AND COLOURED RYELANDS